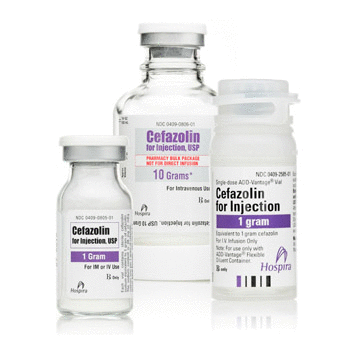 Product Description
CEFAZOLIN SODIUM INJECTION
Uses
Cefazolin is an antibiotic used to treat a wide variety of bacterial infections. It may also be used before and during certain surgeries to help prevent infection. This medication is known as a cephalosporin antibiotic. It works by stopping the growth of bacteria.
Side Effects
Swelling, redness, pain, or soreness at the injection site may occur. This medication may also rarely cause loss of appetite, nausea, vomiting, diarrhea, or headache. If any of these effects persist or worsen, tell your doctor or pharmacist promptly.
Remember that your doctor has prescribed this medication because he or she has judged that the benefit to you is greater than the risk of side effects. Many people using this medication donot have serious side effects.
Tell your doctor right away if you have any serious side effects, including: dark urine, easy bruising/bleeding, fast/pounding/irregular heartbeat, seizures, unusual weakness, yellowing eyes/skin, mental/mood changes (such as confusion).
Precautions
Before using cefazolin, tell your doctor or pharmacist if you are allergic to it; or to other cephalosporins; or to penicillins; or if you have any other allergies. This product may contain inactive ingredients, which can cause allergic reactions or other problems. Talk to your pharmacist for more details.
Before using this medication, tell your doctor or pharmacist your medical history, especially of: kidney disease, liver disease, stomach/intestinal diseases (e.g., colitis).
Cefazolin may cause live bacterial vaccines (such as typhoid vaccine) to not work as well. Do not have any immunizations/vaccinations while using this medication unless your doctor tells you to.
Interactions
Drug interactions may change how your medications work or increase your risk for serious side effects. This document does not contain all possible drug interactions. Keep a list of all the products you use (including prescription/nonprescription drugs and herbal products) and share it with your doctor and pharmacist. Do not start, stop, or change the dosage of any medicines without your doctor's approval.
Some products that may interact with this drug include: aminoglycoside antibiotics (e.g., tobramycin, gentamicin), "blood thinners" (e.g., warfarin), .
Although most antibiotics are unlikely to affect hormonal birth control such as pills, patch, or ring, a few antibiotics (such as rifampin, rifabutin) can decrease their effectiveness. This could result in pregnancy. If you use hormonal birth control, ask your doctor or pharmacist for more details.
This medication may interfere with certain laboratory tests (including Coombs' test), possibly causing false test results. Make sure laboratory personnel and all your doctors know you use this drug.
Contact Us
2075, 2nd floor, The Palladium Mall, Yogi Chowk, Surat, Gujarat, 395006, India
Phone :+918068211495